Guest Services Acquires Lake Mead Mohave Adventures, Collection of Marinas, Campgrounds, and Tours Inside Lake Mead National Recreation Area
FAIRFAX, VIRGINIA (March 4, 2020) – Guests Services, Inc., a premier private hospitality management company in the United States, announces the purchase of seven marinas, RV Villages and river operations in the Lake Mead National Recreation Area.
Each now operating under the banner of Lake Mead Mohave Adventures, these distinctive Southwest destinations offer everything from scenic campgrounds to houseboats, kayaks and powerboat rentals, as well as smooth-water river rafting trips and rustic lakeside lodging.
"Lake Mead Mohave Adventures destinations represent exciting additions to our portfolio," said Barry Trice, vice president of hospitality, Guest Services, Inc. "We are committed to stewardship of the lakes and the surrounding, breathtaking landscape—all while delivering an extraordinary outdoor recreation experience for our visitors."
Lake Mead Mohave Adventures currently includes:
Black Canyon River Adventures/Hoover Dam Raft Tours – This memorable excursion begins at the base of Hoover Dam outside of Boulder City, Nevada. Utilizing motor-assisted rafts piloted by charismatic guides knowledgeable about the native flora and fauna, the tours travel 12 miles along the Black Canyon National Water Trail on the majestic Colorado River. Perfect for guests of all ages, this adventure can accommodate individual travelers or groups up to 250.
Cottonwood Cove Resort & Marina – One hour south of Las Vegas or one hour north of Laughlin, inside the Lake Mead National Recreation Area and on the shoreline of Lake Mohave, lies one of the best-kept secrets in Nevada! The pristine desert lake has a 237mile shoreline and is 67 miles long, backed by Davis Dam on the Colorado River and provides its guests the best in boating, fishing, and hiking. The new marina offers long-term and overnight slip rentals for private boats, or guests may rent a houseboat, powerboat, canoe or kayak. The marina itself is historic as the first and only floating building project in the world to receive GOLD LEED® certification. The floating eco-friendly structure features sustainable modular construction and state-of-the-art energy-efficient and environmentally responsible materials and fixtures.
Echo Bay RV Park – Echo Bay Park offers a fisher's and boater's paradise. Located on the north end of Lake Mead, this secluded park offers a variety of outdoor activities. Close to the "must-see" wonder of the Valley of Fire State Park and the ruins of the historic town of St. Thomas, visitors have an array of hiking and sightseeing opportunities. Fifty-five large RV sites provide power, water, sewer, and cable TV, as well as room for boats. Meanwhile, the free on-site launch ramp provides added access and convenience.
Lake Mead RV Park – Located at Boulder Beach, Lake Mead RV Park offers proximity to Hoover Dam, historic Boulder City and excitement of Las Vegas. With 115 campsites, all featuring water, power, sewer and cable TV, Lake Mead RV park offers spectacular sunrise and sunset vistas, as well as two meeting rooms, barbecue pits, 24-hour laundry, an onsite convenience store, bocce ball court, and horseshoe pits.
Willow Beach Marina & Campground – Located approximately 45 minutes from Las Vegas, Willow Beach Marina & Campground is the culmination point for Black Canyon River Adventure/Hoover Dam Raft Tours' smooth-water rafting trips. From Willow Beach, visitors may explore the Colorado River's 235 miles of shoreline and the myriad opportunities the region offers for hiking, boating, and fishing. Its marina provides a variety of powerboat rentals, as well as canoe and kayak rentals, a fishing pier and boat launch ramp. Campsites (tent and RV) are also available.
The acquisition is expected to be complete for the following two properties in spring 2020:
Callville Bay Marina – Lake Mead is a perfect place for houseboating any time of the year. Lake Mead affords access to numerous water activities – swimming, diving, boating, fishing and more. Visitors can rent a personal watercraft and explore coves, hike the sandy beaches or tour the famed Hoover Dam. With 550 miles of pristine shoreline, soaring red rock cliffs, countless bays and beaches and a convenient location within an hour of Las Vegas, few places match the recreational opportunities awaiting at Lake Mead.  The area also hosts some of the nation's best sport fishing, with multiple professional and amateur tournaments scheduled all season long.
Temple Bar Resort & Marina – This eastern Lake Mead operation includes a full-service marina, restaurant overlooking the lake, convenience store, lake view motel, fishing cabins, dry storage, ski boat rentals, and RV sites. This part of Lake Mead provides one of the most spectacular locations to see giant monolith rock formations like Napoleon's Tomb, Mushroom Rock, and The Temple virtually rising from the lake. The proximity of Temple Bar Marina to Hoover Dam, with easy access from Phoenix or Las Vegas, makes this an ideal getaway for Arizonans.
Each of these destinations operates year-round. For more information, go to www.LakeMeadMohaveAdventures.com.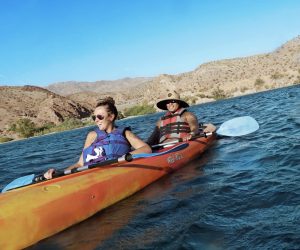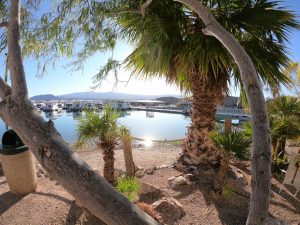 POSTED IN: News